SMIDS receives Covid Relief Award from Tamil Nadu Government
During this COVID – 19  agriculture / daily work for their sustenance are facing a lot of hardship due to the sudden announcement of the lockdown.  They lost their source of income- daily labour so they do not have the purchasing power for necessary items. TNRTP (Tamil Nadu Rural Transformation Project) intervened with several supportive measures.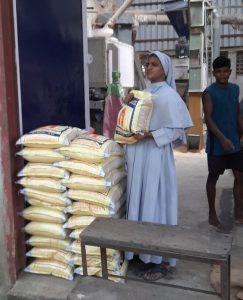 TNRTP in association with Stella Maris Institute of Development Studies (SMIDS)  helped the poor Farmers and farmer Producers Groups during the time of COVID-19 Pandemic in rural panchayaths of Radhapuram &Valliyoor Blocks in Thirunelveli District. SMIDS organized the farmers, arranged vehicles for marketing vegetables and other products in different places.  Arrangements were made to prepare value added products from Agri – Horti Products (Vegetables, Honey, Banana and Moringa) which the farmers were not able sell during the COVID-19 situation. 
VAIGAH farmers Producer Company has given hands on support in producing value added product and proper storage of it. They also assisted the farmers in marketing their value added products. This initiative has helped the rural farmers to get a fair price for their agricultural products during the pandemic. This dedicated work identified by the Tamil Nadu Government on August 7, 2019, on behalf of the farmer producers groups Sister Dr Archana Das DM Executive director SMIDS has received Rs.27 Lakh from the Hon'ble Chief Minister of Tamil Nadu, Mr.Edapdi K Palaniswamy  as COVID -19 distance package relief for the farmers producers groups under TNRTP (Tamilnadu Rural Transformation Project).
We thank, Honourable Chief Minister, CEO of TNRTP, District Collector, Tirunelveli and District Executive Officer, Tirunelveli District for their guidance and support.  Hence, the livelihood security of poor women and their families are being enhanced. This timely grant will assist the farmers for increasing their farm activities. During this rainy season farmers utilized this amount for cultivation and storage facilities.  This also supports farmers for developing their agri- horti products in a commercial way through increasing the production capacity and marketing their products in an innovative way, which will increase the income of the marginalized farmers and livelihood improvement of the families in the rural areas exponentially.